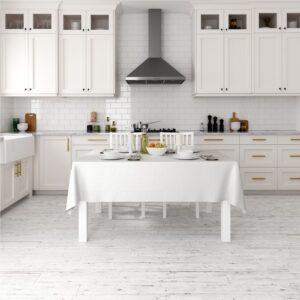 The pandemic has prompted households to rethink how they spend their time at home. This has led to a change in interior design preferences of various parts of the house. This is especially true for the areas where they spend most of their time, namely the home office, the living room, the kitchen, and the bedroom.
The kitchen is the social hub of the house. It is where most of the action takes place. Hence, most homeowners are looking at adding convenience, functionality, and comfort to this space. This has given rise to several design trends that are ruling the construction and remodeling space.
Here are a few kitchen design trends you may want to consider when taking up your next home remodeling project.
1. Panel-Ready Appliances Are Going Mainstream 
Since the time people are spending more time at home, the kitchen has transitioned into an area where family members and friends spend quality time cooking or conversing over a meal. Hence, an increasing number of consumers are expressing their obsessive desire to banish clutter and create a neat and organized kitchen.
When space is a constraint, kitchen appliances like the refrigerator and dishwasher seem to randomly float in the middle. Without a cabinet surrounding them, these appliances look strange and lonely, thus impacting the flow of the kitchen layout.
Today, kitchen appliances are being incorporated into the overall design for creative optimization of every speck of space. Panel-ready appliances are being applied in kitchens to make them look neat and organized while using the space wisely.
Most kitchen appliances and other cooking products are expected to become fully paneled soon.
2. More Creative Space Optimizations for Kitchens
Continuing with the obsession to reduce clutter in the cooking space, furniture and interior design experts will come up with solutions for optimal use of space.
For instance, the demand for larder cupboards and walk-in pantries is growing. These solutions cater to the current de-cluttering craze.
In fact, it has paved the path for another interesting trend, namely prep or back kitchens, an additional space that's accessible from the focal kitchen. So, the dishes can be stacked out of sight for cleaning.
Such solutions allow households to cook and entertain guests with minimum interruption.
3. Seamless Epoxy Countertops Will Transform Kitchens into Focal Points
Epoxy countertops are seamless and attractive surfaces that can be customized as per the existing decor. Moreover, they convert a dull kitchen into a focal point and add style to the decor.
Once installed, epoxy countertops last for several years because they are durable and scratch and stain-resistant. No wonder, epoxy countertops are a raving trend in the construction and remodeling industry.
Of course, the results depend on the quality of the epoxy resin and the installation. Modern epoxy surface professionals can effortlessly revamp cooking spaces with unique countertop ideas. For instance, they can reproduce the look of natural granite or marble.
Hence, epoxy countertops are a rising trend among households seeking creative ways to upgrade their kitchens.
4. Wellness-Driven Kitchen Design Is Gaining Momentum
People across the world are getting health-conscious and researching the source, preparation, and sustainability of the food they eat and the ingredients used. Construction and design professionals are exploring similar standards of wellness and proactively taking steps to incorporate them into kitchen design.
Here are a few things construction professionals can expect out of this trend.
Use of recycled and green construction materials.
Floor plans that uphold family connections and social interactions.
Built-in residential hydroponic growth appliances for growing nutrient-rich sprouts and salads.
For instance, the AeroGarden system allows hydroponic culture for up to 6 plants simultaneously. This allows homeowners to grow anything from herbs to cherry tomatoes easily all year round.
Living walls that not just enhance the kitchen design but also are a visual reminder of wellness.
Minimalist design with less clutter.
Greater focus on recycling and composting solutions.
The wellness kitchen trend is all set to transform this popular area in a household into a better reflection of people's lifestyles.
Going forward, construction and interior design experts will employ technological advancements to create a healthier living environment for their clients.
5. Kitchen Islands Will Continue to Grow
Homeowners have always wanted to reach the maximum potential for great storage, display, and functionality in kitchens. Kitchen islands allow homeowners to take advantage of better storage systems and extra seating for taking a video conference call while staying with the family, and other things.
Kitchen islands also prove to be a show stopper, especially when they are coated with appealing surfacing materials like epoxy resins.
Regardless of what it's used for, kitchen islands will continue to be a critical part of the cooking space. Hence, the demand for these islands will continue to grow.
6.Kitchens Will Continue to Get Smarter
Smart home technology has disrupted every aspect of human life and taken convenience and comfort to the next level. Automation solutions like smart security devices, intercom, sprinklers, and smart HVAC are among the top components of smart buildings.
The future of kitchen design too is smart and hands-free. Touchless technology, voice automation, app-controlled kitchen appliances are making kitchens smarter than ever. Cameras, sensors, and artificial intelligence are transforming conventional microwave ovens, dishwashers, and electric kettles into smart devices.
In the coming years, designers and appliance makers will continue relying on such technological innovations to change the way people cook, store, or clean up.
Summing Up
It's nearly 2 years since we've been living through the pandemic. COVID-19 has changed every aspect of our lives, including our lifestyle and preferences of home design.
Since the kitchen is central to every home, this space has gained significant attention and undergone several changes during this era.
The world is still adjusting to this new way of living. Hence, the future of kitchen design will look different with each passing year. Construction professionals must be aware of the trends shared above and consider them at a moment's notice when taking up home improvement or building projects.